In November 2022 I was lucky to be featured at The Dakota Tavern in Toronto, ON and ever since have been eager to bring my sad sounds back to the big city.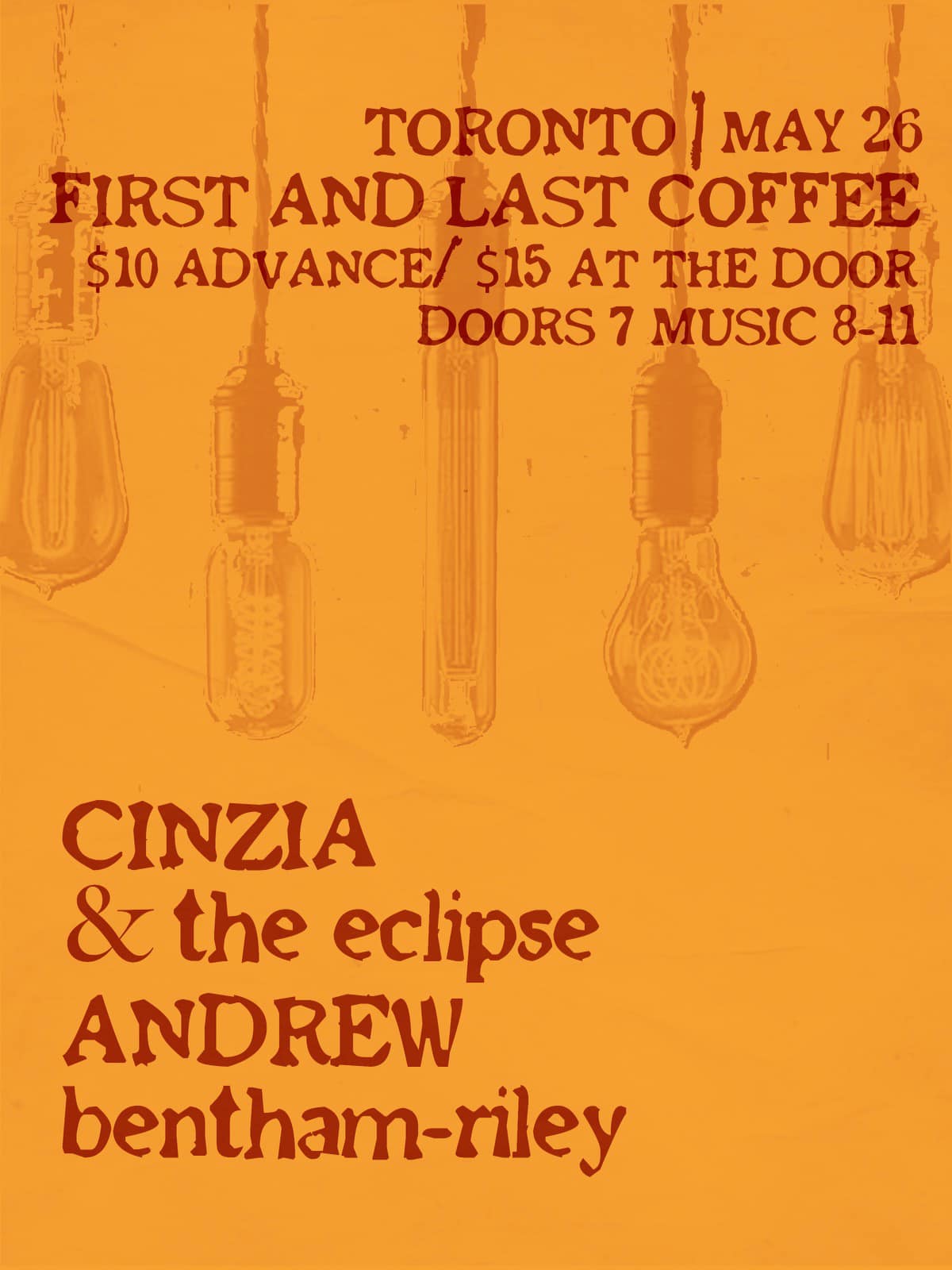 Well, Toronto, I am thrilled to say that I will be back on May 26th 2023 at First and Last Coffee Shop with the amazing Cinzia & The Eclipse. 
Here's the wonderful thing about music, it has lead to so many new friends. Since the first time I stepped on stage with my own music I was embraced by the Niagara music community making the Mahtay Cafe Open Mic a regular stop on my Friday nights. 
"Hey you should do a show with my friend Cinzia!"
Chances are when you meet a cool musician they know other cool musicians. This was the case with my friend Danielle Mattachini after performing together at Medium Baby's Fireside Sessions. Danielle linked me to Cinzia & The Eclipse, a friend of her's recently relocated to Toronto. 
After checking out Cinzia's music and connecting online we quickly agreed a show together would be a great excuse to meet in real life.
Fuelled by caffeine and the combined strength of our heartbreak infused songs we hope you can join us at First and Last Coffee Shop.
 -----------------------------------------------------------------------------------------------------
"Music has always been this magical healing thing that I can never really explain and I'm excited and humbled by the fact that you're here along for the ride with me!
To be honest I didn't think I'd be doing this a few years ago. I'm impulsive, I say exactly what I feel and somehow that's gotten us here. Opening up for great talents like bülow, Billy Raffoul and MONOWHALES, sold out gigs and millions of streams (WHAT?!) to experiencing once in a lifetime moments with Canada's Music Incubator and to millions of connections with listeners around the world all I can say is we're only getting started baby!"
"Drawing from inspirations spanning Indie, Alternative Rock, and Americana Roots based music Andrew writes songs informed by his past, present, and future. 
 Indie Folk Singer Songwriter, and guitarist Andrew Bentham-Riley, was born and raised in Hamilton, Ontario and currently splits his time between the GTA and Niagara Region. 
 Thanks for tagging along for the ride."
First and Last Coffee 

346 Dupont Street
TORONTO, Ontario M5R1V9
(905) 922-7429
firstandlastcoffee@gmail.com