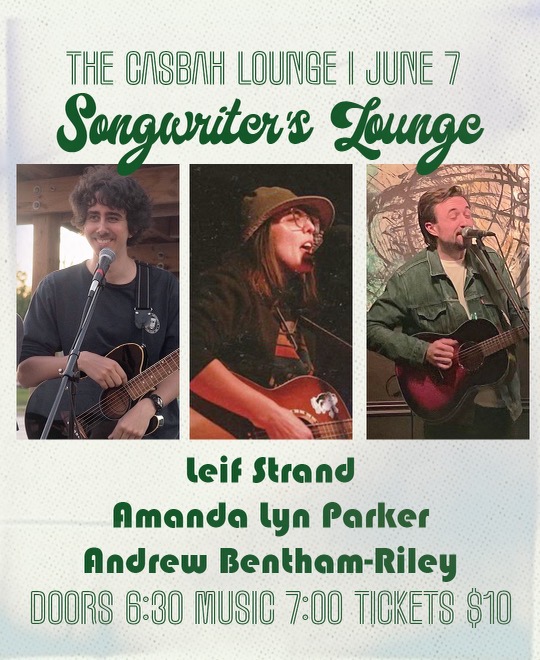 For the June 2023 Edition of Songwriter's Lounge I am thrilled to introduce Amanda Lyn Parker and Leif Strand to The Casbah and hope you will join us for another night of original music.
I first met Amanda Lyn Parker in the summer of 2022 as I was starting out as a Singer Songwriter, looking for solo gigs, and starting to sing with my friends in Georgia Pines. Amanda was kind enough to share some guidance around building a set, including original music during cover gigs, and performance anxiety. This was huge for me and I try to pay it forward whenever I can.  
Amanda is one of the hardest working musicians in Niagara regularly gigging throughout the region along with producing and recording other artists. You can find Amanda on stage performing her solo material, with her band Years of The Modern, and other projects. 
I am a massive fan of her 2021 release Memory Motion Picture which you should absolutely purchase on BandCamp or stream through your DSP of choice. 
Leif and I met in The Casbah Lounge while I was covering hosting duties for Brennagh Burns' Monthly Open Mic, give Brennagh a follow for more opportunities to share music and connect. 
Leif's songwriting and the attention he gave to the other performers struck me and I knew that I would have to invite him for an evening in the Songwriter's Lounge. Leif is the primary songwriter, singer, and a guitar player in the Hamilton based band Rymal. Be sure to stay on the lookout for Rymal online!
I am excited to have Leif along with his bandmate Jared join us in the Songwriter's Lounge. 
You can RSVP to the June Edition of Songwriter's Lounge and pay advance entry here: Songwriter's Lounge June Edition - RSVP Link 
Also be sure to follow and share the Songwriter's Lounge Series Spotify Playlist to continue supporting our songwriters. 
Thank you for supporting original music and making better days!
Andrew Bentham-Riley