When I began performing my music out in public I fell in love with Open Mics and the community around them. It was not long into this journey that I began hosting my own events Songwriter's Lounge in Hamilton, Mahtay Matinee, and different Songwriter Round events throughout Hamilton and Niagara. 
After starting these events my own open mic or event was added to my list of plans for 2023 and now I am excited to announce that I will be hosting a Monthly Coffee House in partnership with Third Space Cafe!
At events I often talk with performers of about music, community, and what people enjoy most about sharing with others. Amongst the conversations the phrase "Coffee House" has been brought up quite often. My new friends would describe coffee houses as warm welcoming events for artists of all disciplines to share their creations with an invested audience. Often taking place in a space free of the usual distractions of a busy restaurant or bar.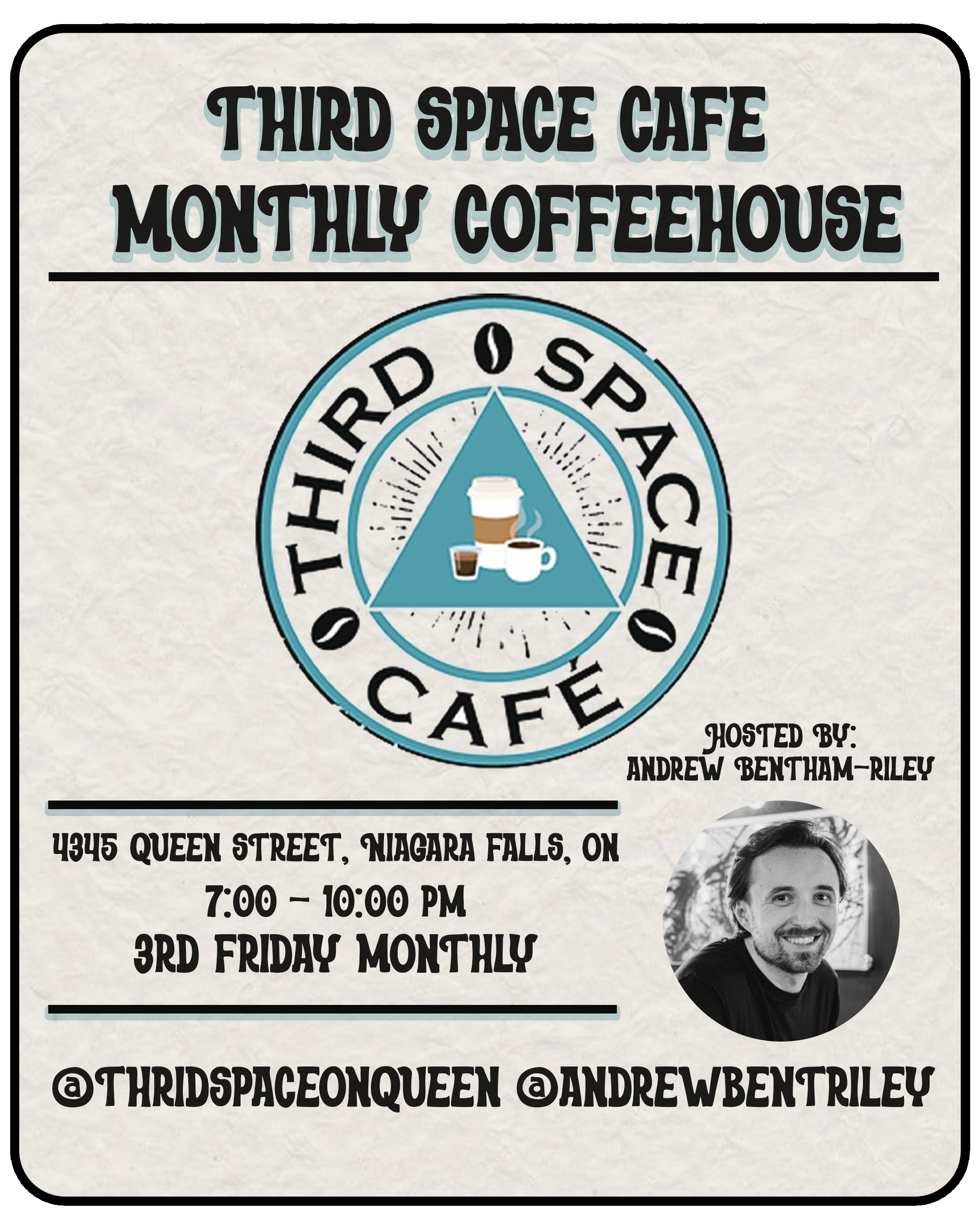 After meeting with Lisa, the Executive Director of Third Space Cafe, we quickly agreed that a Coffee House would be the perfect event to collaborate on. With this monthly Coffee House our aim is to create a safe space for all performers to be vulnerable while sharing their work no matter how far into the process they may be. The Coffee House will take place in the Listening Room giving our audience the opportunity fully engage in and enjoy the performances. 
A huge thank you to Lisa and Third Space Cafe for collaborating with me on this event and providing another space for the community to share and connect through music, art, and of course coffee. A special shoutout to my sister, Emma, for all her hard work on the promotional material for this and all of my events, your support means the world. 
For more information about the Third Space Cafe Coffee house please reach out to myself or the cafe any time through my website or social media. 
Performers are asked to prepare a 15 minute set and bring along their instrument of choice. On site we will have amplification for vocals, acoustic instruments, and a house keyboard. Performers can also sign up ahead of time online through my website contact form and include "Third Space Coffee House" in the subject line. Spots will also be available for walk in performers. 
I look forward to seeing all the talent and art the creative community has to share with us and hope that you can make it out for our first Third Space Cafe Coffee House on Friday June 23rd 7:00-10:00pm. 
Let's keep making better days.
ABR
________________________________________
Third Space Cafe
4345 Queen Street
Niagara Falls, ON, L2R 5J3
(289) 296-9557
https://www.thirdspaceonqueen.ca/ 
________________________________________